After your start your job as a
No-Experience worker
- useful information -
Important dates
2-4 weeks after you have been registered with State administration
You will receive a letter from Statsforvaltningen (State administration office).
Your employer will receive your tax CPR number by postal mail or E-boks.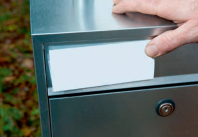 Name on mailbox
PUT YOUR NAME ON THE MAILBOX WHEN YOU ARRIVE AT THE FARM.
(Use employee's home address on contract)
If you do not do this, you will not receive your registration or tax documents.
Agrojob Denmark will not be responsible for any problems resulting from you not putting your name on the mailbox.